Seraphim is ranked as a Top Performer in the 2020 PV Module Reliability Scorecard, released by PVEL in partnership with DNV GL.
PVEL's PV Module Reliability Scorecard is recognized as one of the most comprehensive and publicly available comparisons between PV Module reliability test results. Jiangsu Seraphim Solar System Co has been recognised in this indicator with two different mono-PERC modules achieving 'Top Performer' status in the PID test. This is the third time that Seraphim has garnered this prestigious recognition, according to PV Tech's annual analysis of Top Performers in the PVEL scorecard, which demonstrates its excellent product performance.
Vice President of North America for Seraphim, Jim Wood, discussed the innovation logic and quality control of Seraphim's high efficiency modules in the interview with Tristan Erion-Lorico, the Head of PVEL. Jim mentioned, "We have over 300 quality check points that we go through on every module that is manufactured in real time. You can actually log on to our website and see your module made in real time, where you get to see the three EL test images of the modules, you get to see what the flash data looks like, you get to see what was the temperature of the back sheet when it was installed onto the back of the module."
Click the link to access the full video interview:  www.youtube.com/watch?v=BU4xji6s9Uo
Download the 2020 PV Module Reliability Scorecard to learn more about Seraphim's top performers.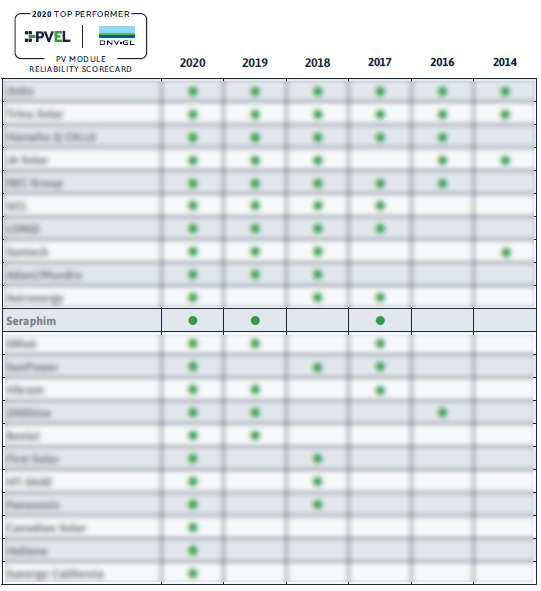 Raystech is proudly serving as the main wholesale distributor of Seraphim products. Products ranges included Seraphim Eclipse, Blade and so much more. Their products are certified as corrosion resistant which makes them suitable for installation in coastal areas. Click here to view the Seraphim ranges. Call us now at 1300 799 988 to request a updated pricelist from us.